Blog
All Blog Posts | Next Post | Previous Post



Bookmarks:
Tuesday, December 3, 2019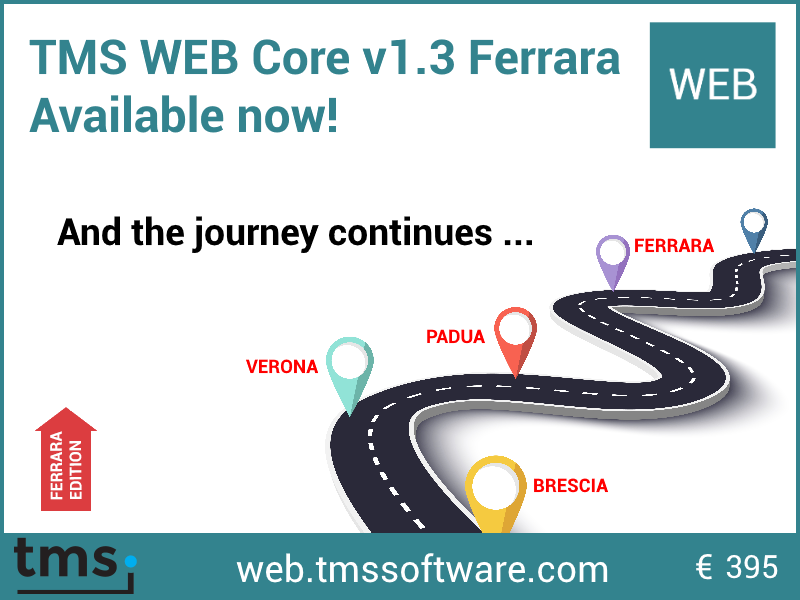 We are happy to announce the release of TMS WEB Core v1.3 Ferrara!
For months it has been tested & evaluated by our team, now it is available for all!

TMS WEB Core v1.3 brings the following new features:
Automatic minify/uglify when compiling in release mode from the IDE
Automatic JavaScript file versioning
Easy UI for HTML element binding at design-time
Visual form inheritance support
Frames support
Design-time editors for HTML template properties
Firestore support via TWebFirestoreClientDataSet
myCloudData.net support via TWebmyCloudDBClientDataset
SQLRestDBBridge support via TWebSQLRestClientDataset
Push notifications via TWebPushnotifications component
Web crypto API wrapper classes
Regular expression API wrapper class TRegEx
Local file access via TWebFilePicker, TWebFileUpload
TWebLookupComboBox, TWebDBLookupComboBox
Redesigned TWebMainMenu
New features for TWebGoogleMaps
New TWebImageZoomControl
Support for selecting the Electron version
Component attribute for JS & CSS lib dependencies
Update to latest pas2js compiler and pas2js RTL
Redesigned TWebMainMenu with responsive behavior / hamburger menu design for smart phone browsers

Version v1.3 has so many new features & improvements!
More details about the new features can be found on the following 2 blogs: part 1 and part 2.


Get started:
As mentioned previously, this version is available for TMS ALL-ACCESS users, TMS WEB Core registered users and TMS WEB Core trial users!

For TMS ALL-ACCESS users, simply use the TMS Subscription Manager and from there, you can download and install TMS WEB Core v1.3 Ferrara.

The v1.3 full version for registered users, can be download after login on our website under "Account / My Products / TMS WEB Core".

For trial users, the v1.3 trial can be downloaded from: https://www.tmssoftware.com/site/tmswebcore.asp

Note: first manually uninstall previous version!


More information:
There is so much to tell about TMS WEB Core, so we kindly invite you to visit our landing page: http://web.tmssoftware.com where more information is provided, including online demos, video tutorials and more.

We're sure you'll be excited to get started exploring these new features. Our team has been long & hard at work on this. Explore TMS WEB Core v1.3 Ferrara and share your experiences and your comments with us.

Masiha Zemarai
Bookmarks:
This blog post has not received any comments yet.




All Blog Posts | Next Post | Previous Post