Blog
All Blog Posts | Next Post | Previous Post



Bookmarks:
Friday, January 31, 2020




25 years Delphi!



2020 is a very exciting year for all Delphi lovers! Delphi 1.0 was released 25 years ago and celebrates its 25th birthday this year.

In 1995 we were totally excited writing our first VCL UI control for a 16bit Windows 95 application in Delphi 1. 25 years later Delphi is the powerhouse that permits building native VCL Win 64 per monitor high-DPI enabled Windows applications, cross-platform FMX apps running on Windows, macOS, iOS, Android, Linux using a TMS Aurelius ORM and/or a TMS XData REST backend to abstract database access. A world of difference between 1995 and 2020 but still using a highly backwards compatible and familiar RAD component based development approach.
Celebrate 25 years Delphi with us and win prizes!


To share the passion and celebrate, in February we have a special Valentine challenge for you.
Take a screenshot of your coolest project you created with Delphi using TMS components.




Share this screenshot with a comment what TMS components are involved on social media.



Prizes!


You are in control who wins. Simple! We count the number of likes + shares + comments. The top 3 participants with the highest count win one of these awesome prizes:
Are you one of our winners and you already have this license? Then you will receive a FREE LICENSE RENEWAL.

That is not all! Our top 3 winners will also receive this limited edition TMS mug, we give away the very last 3 pieces of this limited series we created: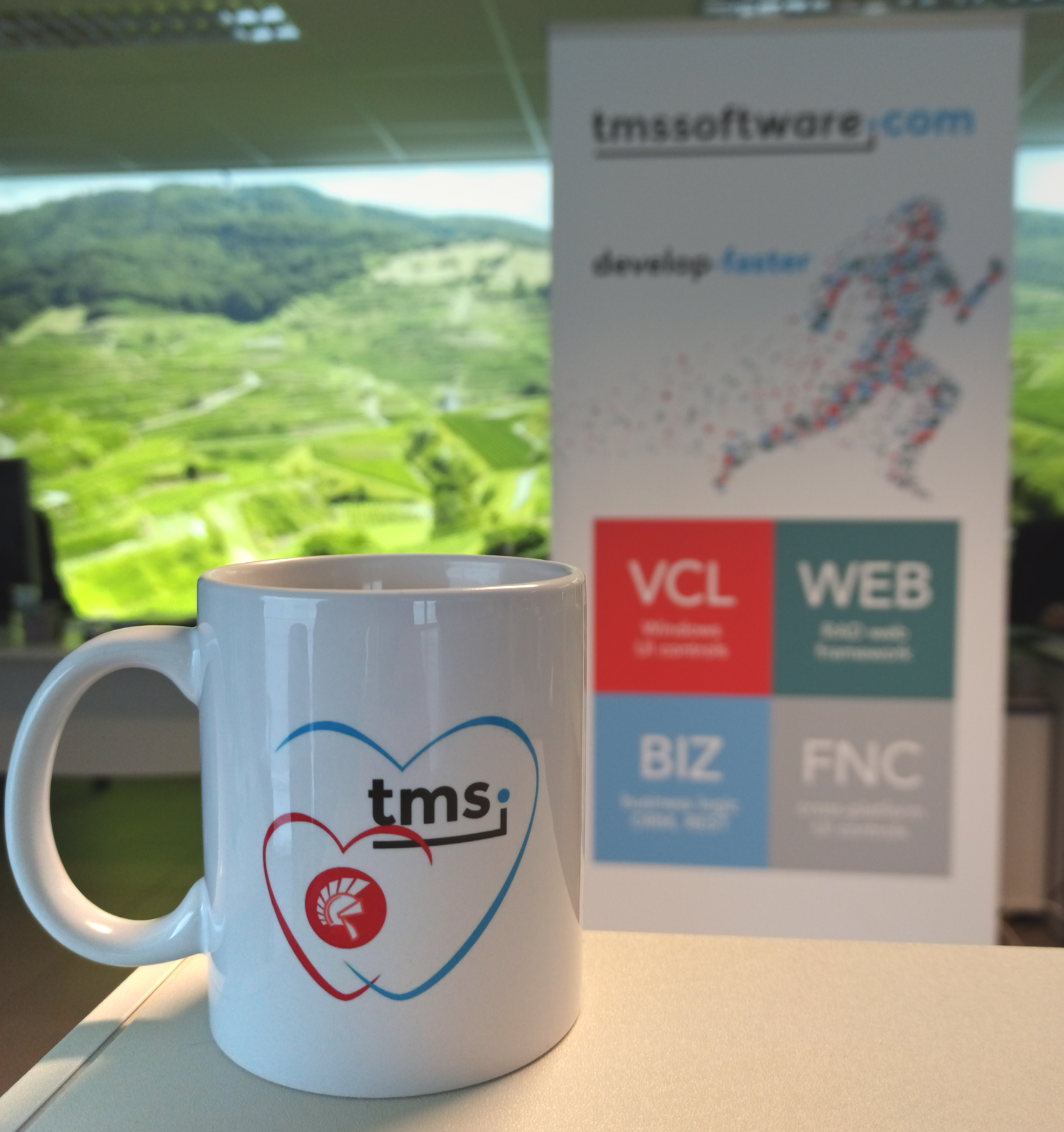 To thank our participants for their efforts and enthusiasm, they will receive a 20% discount on new licenses!
Contact our team via email (info@tmssoftware.com), with a reference to your tweet and get 20% discount on a TMS product of your choice!
TMS WEB Core


TMS WEB Core enables to build modern web client applications following the single-page architecture that also other modern frameworks like Angular, vue.js, React employ.. TMS WEB Core is offered at 395 EUR. But this month, when you participate in the challenge, you get 20% extra discount, so for 316 EUR only.
TMS FNC Component Studio


With this bundle you have the freedom to create powerful apps of your choice. Separate purchase of the products will cost you 460 EUR. This bundle is offered at 295 EUR, but this month, participants can get this for discount price

236 EUR

.
TMS VCL UI Pack


Create modern-looking & feature-rich Windows applications faster with over 600 components in one money and time saving bundle for Delphi & C++Builder. Regular bundle price is 295 EUR, but only this month, when you participate in the challenge, you get an extra 20% discount on this bundle, so this is 236 EUR only!
TMS Business Subscription


TMS Business Subscription is our bundle framework that includes: TMS Aurelius, TMS XData, TMS Scripter, TMS Data Modeler, TMS RemoteDB, TMS Echo, TMS Diagram Studio and TMS Workflow Studio. You can purchase your license for regular price 395 EUR. But when you participate in the challenge, this month you can get your license for 316 EUR only!
TMS ALL-ACCESS


TMS ALL-ACCESS is our no-nonsense bundle, where you get all our components for just 1695 EUR, instead of 5870 EUR. And yes, when you participate in the challenge, on top of that you get 20% extra discount this month! So you can get all our components for 1356 EUR.

Note: This discount offer is valid until February 29, 2020.

Ready, set, go...
The registrations are open from February 1 until February 13. The winners will be announced on February 14 on our social media and blog page!




All the best!



Masiha Zemarai




Bookmarks:




This blog post has received 5 comments.





All Blog Posts | Next Post | Previous Post



×