FMX
TMS FMX UI Pack
Set of highly configurable and styleable components for cross-platform FireMonkey software development
---
For cross-platform development, we recommend using:
| FMX | |
| --- | --- |
| Architecture based on orginal FireMonkey classes | New independent architecture built-up from scratch |
| Not easy to extend/customize | Easily extendible with many customization options/events |
| Performance degrades when FMX object count increases | Faster performance, high quality graphics |
| Basic design-time integration | Enhanced design-time integration |
| Supports the FMX framework only | Supports multiple frameworks (FMX, VCL, LCL and WEB) |
| | High level of compatibility with older FMX code |
---



Features
---
Highly configurable planner / scheduler component
TTMSFMXPlanner
Built-in and customizable inplace and dialog editing
Moveable and sizeable items with HTML formatted text and hyperlink detection
Various display modes: day, month, day period, half day period, multi day, multi month, multi day resource, multi resource day and custom displays
Multiple events for all kinds of interactions such as editing, item inserting, updating, moving and sizing
Multiple events for custom drawing and customization of default drawing
Item hints and time indication helpers
Support for FireMonkey styles
Optional overlapping items
Touch scrolling and selection
Optimized for mobile devices
Seamless connectivity to cloud calendars like Google Calendar, Microsoft Live Calendar (in combination with TMS Cloud Pack for FireMonkey)
Recurrency support
Databinding support
Item Linking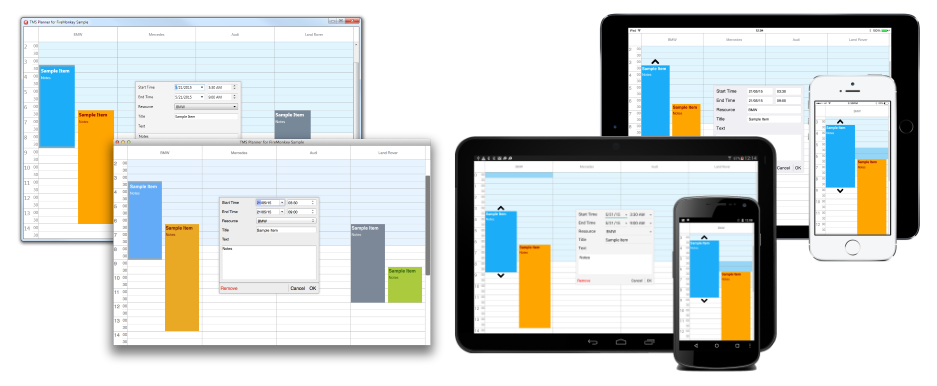 Click image for more screenshots.
Help
What our customers say
In the past I have purchased other components from other parties. I will say proudly that TMS is the best in support, price and style. Whenever I need a help your team is always there to help me. Keep up the good work
Hi Bruno Just want to drop you a line about how great your presentation was today. We often fail to point out to someone when they do a great job! You did a great job, you gave me a lot of ideas, and you answered my question very well. THANK you for your great products & super support.
Thank you for developing components where I can best describe it like this: TMS components is a case where "The wheels fit the car, and NOT the car fit the wheels". Well done.
As always your support is extraordinary and lightning fast.
Great controls - Just like I remember from the project I worked on 1998-2003. The controls only got better
❮
❯
Trial Downloads
Requires XE7 with update 1, XE8, 10 Seattle, 10.1 Berlin, 10.2 Tokyo or 10.3 Rio, 10.4 Sydney.
For mobile device deployment, the trial version supports deploying in release mode only.
Full functionality of the trial version is limited to macOS, iOS and Android for XE7. No limitations for XE8, 10 Seattle, 10.1 Berlin, 10.2 Tokyo, 10.3 Rio, 10.4 Sydney.
---
Compatibility
Delphi XE7, XE8, 10 Seattle, 10.1 Berlin, 10.2 Tokyo, 10.3 Rio, 10.4 Sydney, 11 Alexandria, C++Builder XE7, XE8, 10 Seattle, 10.1 Berlin, 10.2 Tokyo, 10.3 Rio, 10.4 Sydney, 11 Alexandria (Professional/Enterprise/Architect)
---
Licensing
---
Included In
Bookmarks
×