TMS FNC Core
Cross-framework core layer for creating rich visual and non-visual components
---
Release
Compatible frameworks
Compatible operating systems/browsers
Compatible IDEs
Included with the following TMS FNC products
---
---
---
---
---
---
Features
JSON reading, writing and parsing functionality
Base64 and URL encoding and decoding
Component persistence
Undo/Redo Manager
Verification of numeric, alphanumeric character sets
Message, file open and save dialogs
Easy access to application and documents folder
Open files and URLs
Bitmap container for storing JPEG, PNG, ICO, GIF and many more image formats with optional automatic URL downloading mechanism
---
Library for generating PDF files
TTMSFNCPDFLib
PDF Generator Library
HTML formatted text support
Optional Font Embedding
Drawing primitives such as lines, rectangles, ellipses and custom paths
Support for horizontal and vertical linear gradients
Separate Fill and Stroke implementation
URL support
Unicode character support
Cross platform
Support for images drawing with optional stretching, aspect ratio
Text flow in multiple columns
Overflow detection and calculation
Numerous predefined page sizes
Optional page header and footer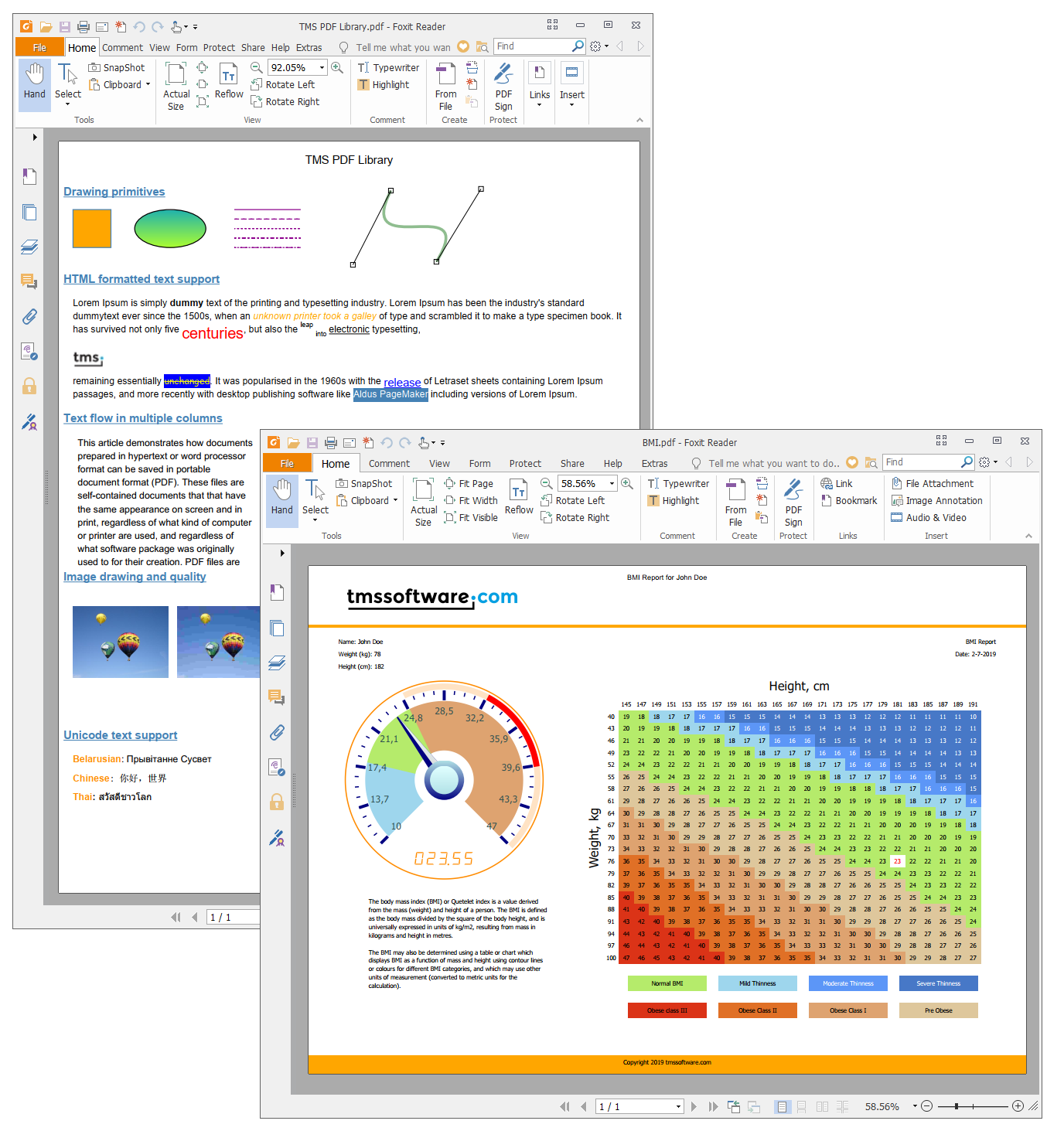 Click image for more screenshots.

TTMSFNCGraphicsPDFIO

Partner Program
Create your own FNC components and become an FNC Certified partner.
Help
What our customers say
Hi Bruno Just want to drop you a line about how great your presentation was today. We often fail to point out to someone when they do a great job! You did a great job, you gave me a lot of ideas, and you answered my question very well. THANK you for your great products & super support.
Thank you for developing components where I can best describe it like this: TMS components is a case where "The wheels fit the car, and NOT the car fit the wheels". Well done.
As always your support is extraordinary and lightning fast.
Great controls - Just like I remember from the project I worked on 1998-2003. The controls only got better
I've played with the trial of Aurelius a bit and I like what I've seen so far (Firebird 2.5 with IBObjects). Especially the way how I can get started with a legacy database is nice. I wouldn't like if Aurelius thinks it needs to be clever when it comes to maintaining the underlaying database for changes due to the technical challenges mentioned above. For sure, Aurelius has potential for being an important part in the Delphi world when writing OO-based database clients.
❮
❯
Trial downloads
Trial version: limited to WEB, FMX and VCL. For mobile device deployment, the trial version supports deploying in release mode only.
---
for Delphi XE7, XE8, 10 Seattle, 10.1 Berlin, 10.2 Tokyo, 10.3 Rio, 10.4 Sydney, 11 Alexandria, C++Builder XE7, XE8, 10 Seattle, 10.1 Berlin, 10.2 Tokyo, 10.3 Rio, 10.4 Sydney, 11 Alexandria, Visual Studio Code (Professional/Enterprise/Architect)
---
View licensing FAQ
---
License for commercial use: Single developer license, Small team license, Site license
Includes full source code
Free 1 year updates and new releases
After 1 year, a 70% discount renewal is offered for a one year extension (offer valid for 30 days)
Free priority support through email and forum
Bookmarks