TMS FNC Maps
Hold the full power of mapping in your hand! Cross-framework, cross-platform, cross-service mapping component library
---
Release
TMS FNC Components can be used simultaneously on these frameworks
TMS FNC Components can be used simultaneously on these operating systems/browsers
TMS FNC Controls can be used simultaneously on these IDEs
TMS FNC Maps can be used with these mapping services
Includes access to TMS FNC Core
---
Supported Mapping Services
Google Maps
Maps, Directions, Geocoding, Static Maps, TimeZone, Elevation, Location
Here Maps
Maps, Directions, Geocoding, Static Maps, TimeZone, Toll Cost
Microsoft Azure Maps
Maps, Directions, Geocoding, Static Maps, TimeZone
Microsoft Bing Maps
Maps, Directions, Geocoding, Static Maps, TimeZone
TomTom
Maps, Directions, Geocoding, Static Maps
MapBox
Maps, Directions, Geocoding, Static Maps
OpenLayers (OpenStreetMap)
Maps, TileServers
Apple MapKit
Maps, Directions
| | |
| --- | --- |
| | |
Features
Create & Edit routes (TTMSFNCRouteCalculator)

Add, edit and remove waypoints
Map interaction in combination with TTMSFNCMaps
Undo & redo history manager
Import & export GPX files

Directions/Routing (TTMSFNCDirections)

Options for configuring alternative routes, step by step directions, …

Geocoding (normal, reverse) (TTMSFNCGeocoding)
Getting current location (TTMSFNCLocation)
Getting elevation for a location (TTMSFNCElevation)
Getting static map image (TTMSFNCStaticMap)
Displaying an image (TTMSFNCMapsImage)
Getting time zone information for a location (TTMSFNCTimeZone)
Getting toll cost for a route (TTMSFNCTollCost)
Maps (TTMSFNCMaps)

Polylines
Polygons
Markers
Circles
Rectangles
Zooming, centering
Bounds
Load GPX, GeoJSON
Various Events

Google Maps (TTMSFNCGoogleMaps)

Inherits from TTMSFNCMaps
Load KML
Editing of polylines, polygons, circles and rectangles
Dragging of markers
Traffic
Themes (Night, …)
Marker clusters
Map Types (Satellite, …)
Integrated directions
Geodesic polylines

MapKit (TTMSFNCMapKit)

Inherits from TTMSFNCMaps
Integrated directions
Map rotation

MapBox (TTMSFNCMapBox)

Inherits from TTMSFNCMaps
Map Types

TomTom (TTMSFNCTomTom)

Inherits from TTMSFNCMaps
Map Types

OpenLayers (TTMSFNCOpenLayers)

Inherits from TTMSFNCMaps
Use custom tile servers / tile layers
Polyline & polygon labels
Online Demo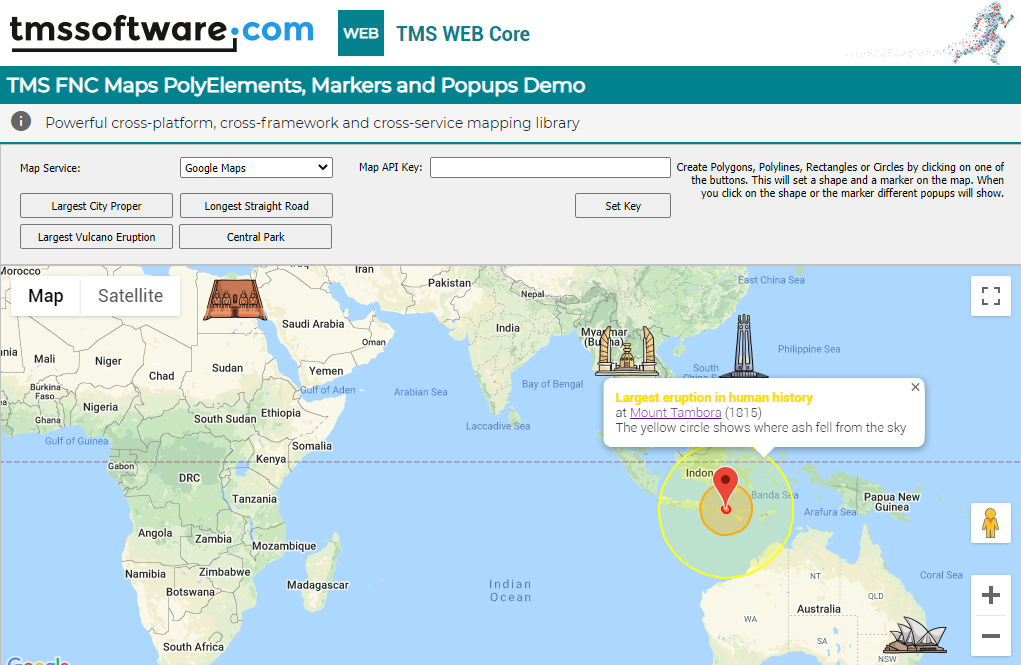 TMS Software Hands-on with Delphi: FNC Maps
Cross-framework, Cross-platform, Cross-service Mapping Component Library (TMS Software Hands-on with Delphi)
Partner Program
Create your own FNC components and become an FNC Certified partner.
Help
Testimonials
January 22, 2021
Installed today (fnc core + fnc maps + chromium v84/dev). then created a test app (vcl, dx 10.3) with old tms map and new tms map, side by side.
fantastic performance. thank you!



— Oleg Kyrylenko
---
Trial downloads
Trial version: limited to WEB, FMX and VCL. For mobile device deployment, the trial version supports deploying in release mode only.
---
for Delphi XE7, XE8, 10 Seattle, 10.1 Berlin, 10.2 Tokyo, 10.3 Rio, 10.4 Sydney, C++Builder XE7, XE8, 10 Seattle, 10.1 Berlin, 10.2 Tokyo, 10.3 Rio, 10.4 Sydney (Prof/Enterprise/Architect)
---
View licensing FAQ
---
License for commercial use: Single developer license, Small team license, Site license
Includes full source code
Free 1 year updates and new releases
After 1 year, a 70% discount renewal is offered for a one year extension (offer valid for 30 days)
Free priority support through email and forum
---
This product is also available in the following bundle(s):
Bookmarks